Network & Connect and get your start in Podcasting, On Air, Streaming, News/Talk, Sports, Social Media, Sales, Marketing, Promotions and more!

Kellar Radio Talent Institute June 3 - 8, 2024.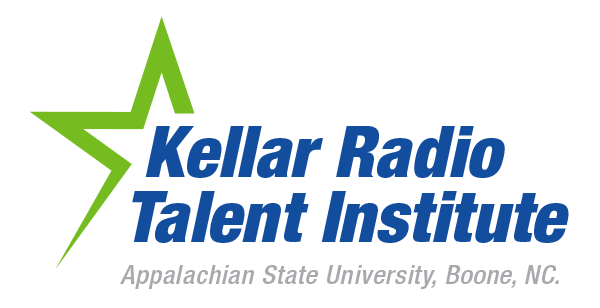 APPLICATIONS OPEN NOW! Take a huge step toward starting your career in On Air, Podcasting, Streaming, Audio Production, News/Talk, Sports, Social Media, Sales, Marketing, Promotions and more!
The Kellar Radio Talent Institute™ at Appalachian State University in Boone, North Carolina creates opportunities for new and emerging careers in media. It is truly an incubator of well-rounded, well-educated college students, or recent graduates with a passion for media and a determination to get into the business.

The National Radio Talent System™ is made up of multiple talent Institutes at colleges and universities throughout the United States. Each institute brings in industry professionals from around the country as Guest Speakers who bring their real-world knowledge to this intensive 6-day summer program.

The Kellar Radio Talent Institute™ at App State is the campus-to-career connection most students need to begin their broadcast career, each not only learning from the dozens of pros but are able to network with them individually. This proves invaluable, as most will otherwise never have such an opportunity to meet and speak with these professionals. Likewise, these pros already have an introduction to these students who are available for open positions.

Upon completion of the institute, students will further their networking opportunities with access the National Radio Talent System's Career Center. This is where those in the industry are able to discover and hire NRTS graduates, who very likely, will be tomorrow's industry leaders.
Here are some of the Institute highlights (See Curriculum for more)
Now is the Time to Start Thinking Like a Pro
Radio's Digital Content & Social Media
Programming Sports Talk Radio
How to Get In and Win
Marketing and Promotions - Doing It Right
Basics of Great Voice Work and Production
Goal Setting & Time Management
Doing It Live & Voice Tracking
How to Get a Good Job
How to Do A Great Talk Radio Show
Basics of Doing a Great Music Radio Show
Music Scheduling: How & Why
Sales & Marketing
Sample Daily Curriculum
Industry Pros Speaking at GAB Radio Talent Institute
Chris Eagan
Vice President Audience & Operations
Cox Media Group
Atlanta, GA
---
Chandra Kinsey
Regional Promotions Director
Audacy, Inc.
Atlanta | Chattanooga | Memphis
---
Callie Dauler
Podcaster/Radio-TV Producer
Founder/Partner
tentwentytwo Projects
Atlanta, GA
Big Tigger
Big Tigger Morning Show
WVEE-V103 Atlanta
Audacy, Inc.
---
Don Turnbull
PM Drive/Traffic Anchor
Traffic/News
WSB Atlanta
Cox Media Group
GAB Radio Talent Institute Say It Best!
---
---
Frequently Asked Questions
The Kellar Radio Talent Institute is an intense 10-day program held on the campus of Appalachian State University in Boone, NC in partnership with National Radio Talent System.
National Radio Talent System is the only program of its kind in the world. It's a system of Radio Talent Institutes on college campuses across America. Its mission is to discover, coach and nurture the next generations of professionals in the industry.
National Radio Talent System brings over 30 radio professionals to the Kellar Radio Talent Institute to teach interactive sessions. Over the ten days you will personally learn from them, meet, mingle, and network with them. It could take years to meet and build relationships with this many broadcasters otherwise. Broadcast professionals from almost every aspect of the radio industry lead sessions; on-air, sales, digital, sports, news, production, management, marketing, programming, social media, etc.
After completion of the Kellar Radio Talent Institute, you are highlighted on the National Radio Talent System website to broadcasters regionally and nationally. 70% of students who attend the Kellar Radio Talent Institute get their first job in broadcasting after graduation.
YES. You don't have to choose one or the other. To date, every radio station has allowed their interns to break away from the internship for ten days to participate in Radio Talent Institutes.
All college students, recent graduates and grad students from all universities in the state and region and interns and part-timers at radio or TV stations are welcomed. A total of 25 students are accepted on a rolling acceptance, so the earlier you apply, the better your chances.
The National Radio Talent System provides a "Certificate of Completion" from the Kellar Radio Talent Institute and a "Radio Marketing Professional" certification from the Radio Advertising Bureau.
A $395 Registration fee is paid after you are notified of acceptance, and that cost includes a meal card for lunch to use during the 6 days. Housing, if needed, is available on campus for an extra fee.
Yes. You may cancel your registration and request a refund for the Kellar institute at Appalachian University in Boone, NC by April 15th, 2024.
About the Kellar Radio Talent Institute
Art Kellar
Through the support of lifetime broadcaster Art Kellar, The National Radio Talent System and Appalachian State University are proud to present the Kellar Radio Talent Institute, committed to discovering and preparing a new generation of broadcast professionals.
Kellar stated, "There is a need to bring fresh talent into the industry at every level, to contribute to make the industry even more dynamic, and there are plenty of people in the industry that want to help young people enter the industry and be successful."
Kellar became a disc jockey in Ronceverte, West Virginia. He told an interviewer, "I got off the train and walked the two blocks to the [radio] station, and when I walked inside my very first thought was, I've got to own one of these."
Kellar founded O.K. Broadcasting in 1956 and that year purchased his first radio station, WEEL-AM in Fairfax, Virginia. In the 1960s and 1970s, WEEL was one of the Washington area's most popular Top 40 stations.  In 1967, he founded EZ Communications, Inc., which eventually owned and operated 26 AM and FM stations across the United States.
In 1996, after the easing of deregulation rules, EZ Communications merged with Boston-based American Radio Systems, Inc. (ARS), sealing a $655 million deal that made the resulting company the second largest station operator in the country. Kellar retired shortly afterward.
His radio stations entertained millions of people, from Seattle to Miami, from Philadelphia to Phoenix. With very little capital, and lots of work, foresight, vision, and talent, he built a company worth more than $500 million.
Woody Allen of Allen Financial Services commented, A mark of his greatness is the number of people who have better lives because of him; an even greater mark is that, oftimes, the recipient of his generosity never knew that it was Art who provided it."
If there ever was a real gentleman, a person who said 'I'll do this' and who always did it, it was Art Kellar. He was a man among men, if I might use that old cliche. I was so enthused when I heard the idea of this institute that I wanted to do anything that we could possibly do to make it successful, because anything that Art Kellar had his hands on was always done to perfection.
George Beasley - Founder - and former Chairman and CEO - Beasley Broadcast Group
Art was always reaching out to help others, and would go out of his way to do it. I always appreciated his willingness to give through what God had blessed him with. He cared.
Joe Gibbs, Former Coach, Washington Commanders, Owner Joe Gibbs Racing
Appalachian State University
Appalachian is a special place. Our location in Boone, North Carolina's Blue Ridge Mountains, a place of great beauty abundant with cultural and recreational opportunities, profoundly shapes how our community lives, works and learns together. Once you become a part of our community, you never really leave.
Appalachian State University prepares students to lead purposeful lives as global citizens who understand and engage their responsibilities in creating a sustainable future for all. The transformational Appalachian experience promotes a spirit of inclusion that brings people together in inspiring ways to acquire and create knowledge, to grow holistically, to act with passion and determination, and embrace diversity and difference. As one of 17 campuses in the University of North Carolina system, Appalachian enrolls about 19,000 students, has a low student-to-faculty ratio and offers more than 150 undergraduate and graduate majors.
Appalachian was founded in 1899. The pioneering spirit necessary to overcome the mountains' hardships quickly characterized the institution, giving Appalachian a special niche in higher education that continues today. After more than a century, students still feel the pull of this unique place to transform their lives, and Appalachian has remained focused on providing students with educational experiences that are not only life-changing but world-changing.

Our Mission
The Kellar Radio Talent Institute attracts, trains and creates opportunity for talented, enthusiastic and well educated young adults who have a passion for the broadcast industry. College students, recent graduates, grad students, interns and part-timers at radio or TV stations work through an intensive 10-days to bring them to a better understanding of each aspect of the industry, including on-air, programming, writing, news, sports and sales; all students also participate in RAB training and take the exam to earn their Radio marketing Professional Certification.
The Kellar Radio Talent Institute prepares the students to excel in entry-level positions upon their graduation, and better ensures they get a start in and have a successful career in broadcasting.
Part of the goal is to prepare students, along with their Liberal Arts education, to the point that they can walk into a professional radio station environment and not only be comfortable, but to excel in every area of the business, from on-air to programming to sales to management ... we expect no less than to prepare a future generation of broadcast leaders.
We look to attract the brightest of the brightest students to bring fresh talent into the industry who can contribute to make the industry even more dynamic.
Contact Us
If you have any questions regarding applying or need assistance in any way, please don't hesitate to contact us directly.
NRTS Contact: Erica Farber
Call: 972-753-6720
Appalachian State Contact
See what a future in broadcasting looks like when you join a Talent Institute