Network & Connect and get your start in Podcasting, On Air, Streaming, News/Talk, Sports, Social Media, Sales, Marketing, Promotions and more!

IBA Radio Talent Institute at Columbia College, Chicago, IL, May 13th - 18th, 2024.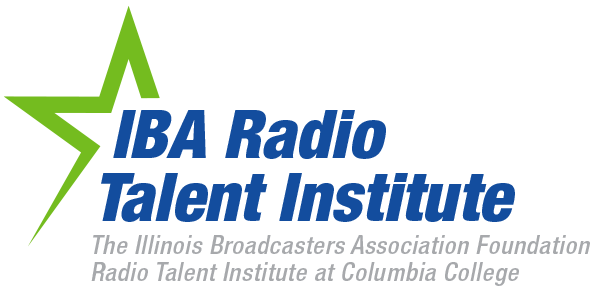 APPLICATIONS OPENING SOON! Take a huge step toward starting your career in On Air, Podcasting, Streaming, Audio Production, News/Talk, Sports, Social Media, Sales, Marketing, Promotions and more!
The Illinois Broadcast Association Radio Talent Institute™ at Columbia College in Chicago, Illinois creates opportunities for new and emerging careers in media. It is truly an incubator of well-rounded, well-educated college students, or recent graduates with a passion for media and a determination to get into the business.

The National Radio Talent System™ is made up of multiple talent Institutes at colleges and universities throughout the United States. Each institute brings in industry professionals from around the country as Guest Speakers who bring their real-world knowledge to this intensive 6-day summer program.

The IBA Radio Talent Institute™ at Columbia College is the campus-to-career connection most students need to begin their broadcast career, each not only learning from the dozens of pros but are able to network with them individually. This proves invaluable, as most will otherwise never have such an opportunity to meet and speak with these professionals. Likewise, these pros already have an introduction to these students who are available for open positions.

Upon completion of the institute, students will further their networking opportunities with access the National Radio Talent System's Career Center. This is where those in the industry are able to discover and hire NRTS graduates, who very likely, will be tomorrow's industry leaders.
Here are some of the Institute highlights (See Curriculum for more)
Now is the Time to Start Thinking Like a Pro
Radio's Digital Content & Social Media
Programming Sports Talk Radio
How to Get In and Win
Marketing and Promotions - Doing It Right
Basics of Great Voice Work and Production
Goal Setting & Time Management
Doing It Live & Voice Tracking
How to Get a Good Job
How to Do A Great Talk Radio Show
Basics of Doing a Great Music Radio Show
Music Scheduling: How & Why
Sales & Marketing
Sample Daily Curriculum
Industry Pros Speaking at IBA Radio Talent Institute
Chris Eagan
Vice President Audience & Operations
Cox Media Group
Atlanta, GA
---
Chandra Kinsey
Regional Promotions Director
Audacy, Inc.
Atlanta | Chattanooga | Memphis
---
Callie Dauler
Podcaster/Radio-TV Producer
Founder/Partner
tentwentytwo Projects
Atlanta, GA
Big Tigger
Big Tigger Morning Show
WVEE-V103 Atlanta
Audacy, Inc.
---
Don Turnbull
PM Drive/Traffic Anchor
Traffic/News
WSB Atlanta
Cox Media Group
IBA Radio Talent Institute Students Say It Best!
---
---
Frequently Asked Questions
The IBA Radio Talent Institute is an intense 10-day program held on the campus of Columbia College in Chicago in partnership with the Illinois Broadcasters Association and National Radio Talent System.
National Radio Talent System is the only program of its kind in the world. It's a system of Radio Talent Institutes on college campuses across America. Its mission is to discover, coach and nurture the next generations of professionals in the industry.
National Radio Talent System brings over 30 radio professionals to the IBA Radio Talent Institute to teach interactive sessions. Over the ten days you will personally learn from them, meet, mingle, and network with them. It could take years to meet and build relationships with this many broadcasters otherwise. Broadcast professionals from almost every aspect of the radio industry lead sessions; on-air, sales, digital, sports, news, production, management, marketing, programming, social media, etc.
After completion of the IBA Radio Talent Institute, you are highlighted on the National Radio Talent System website to broadcasters regionally and nationally. 70% of students who attend a Radio Talent Institute get their first job in broadcasting after graduation.
YES. You don't have to choose one or the other. To date, every radio station has allowed their interns to break away from the internship for ten days to participate in Radio Talent Institutes.
College students, recent graduates, grad students, interns and part-timers at radio or TV stations are welcomed and accepted from all universities in the state and region. A total of 25 students are accepted on a rolling acceptance, so the earlier you apply, the better your chances.
The National Radio Talent System provides a "Certificate of Completion" from the IBA Radio Talent Institute and a "Radio Marketing Professional" certification from the Radio Advertising Bureau.
A $395 Registration fee is paid after you are notified of acceptance, and that cost includes a meal card for lunch to use during the 10 days. Housing, if needed, is available on campus for an extra fee.
Yes. You may cancel your registration and request a refund for the IBA Institute at Columbia College in Chicago, IL by May 5th, 2023.
Illinois Broadcast Foundation
The Illinois Broadcast Foundation (IBF) provides, promotes and facilitates educational opportunities in the broadcast industry through scholarships and grants, preserves the history of broadcasting and facilitates research and career development opportunities in the broadcast industry. 
Illinois Broadcast Foundation Members:
John Gehron, Chairman, AccuRadio
Larry Nelson-Treasurer/Secretary, Â Nelson Multimedia
DIRECTORS
Marv Dyson, Director Emeritus, IBAÂ 
Carlos Fernandez, Quincy
Marilyn Kushak, Midwest Family Broadcasting
Dennis Lyle, President/CEO, Illinois Broadcasters Association and IBFoundation
Jerry Schnacke, Chicago
Sarah Shellhammer, Jacksonville
Tom Oakley, Quincy
Bayard (Bud) Walters, President, Cromwell Radio Group
Steve Wheeler, Carterville
Frank Whittaker, NBC 5, Chicago
Marty Wilke, Chicago
Dana Withers, Illinois
See what a future in broadcasting looks like when you join a Talent Institute