Now Accepting for Applications
We look forward to you joining us for the Hubbard/MBA Radio Talent Institute at Lindenwood University in Saint Charles, MO July 17 - July 26, 2023
Apply Now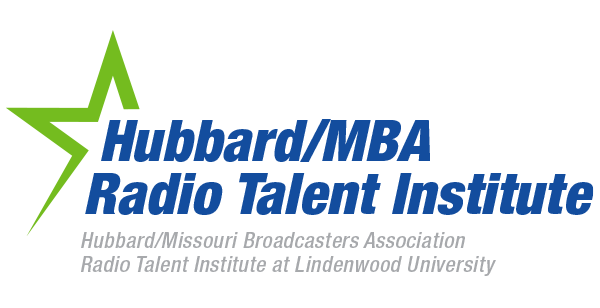 Join us for the 2023 Hubbard/MBA Radio Talent Institute!
The Hubbard/MBA Radio Talent Institute is a talent incubator at Lindenwood University. The institute, which takes place during the summer spans 10 days and is led by broadcast professionals from around the state and country who share their real-world industry knowledge to the institute attendees.

Participating professionals praise the Hubbard/MBA Radio Talent Institute and embrace the Institute as the "go to" place to find bright, talented young broadcasters interested in entering the industry.

The National Radio Talent System and the Radio Talent Institute is the campus-to-career connection most students need to begin their broadcast career. Plus it is a connection for broadcasters to discover and hire the next generation of talent in broadcast radio.

College students from universities throughout the state and region apply to be accepted into the Hubbard/MBA Radio Talent Institute. This provides an ideal networking opportunity for the students with a wide variety of potential interests within the classroom for industry professionals to identify and actively recruit. Upon graduation of the Institute, students can further their networking opportunities through their ability to access the National Radio Talent System's Career Center.
"The MBA is proud to again be a sponsor of the Radio Talent Institute. I have seen first-hand how this program has helped students determine the direction they want to take in their future. I wish something like this was available when I was in school!" Mark Gordon
President and CEO
Missouri Broadcasters Association
"At Hubbard Radio St. Louis our mission is to make talent acquisition a priority. We develop leaders to build dominant brands that connect our audience, community and business partners. We are so pleased to partner with the MBA to sponsor the Radio Talent Institute."
John Kijowski
Vice President and Market Manager
Hubbard Radio St. Louis.
Here are some the the Institute highlights
Now is the Time to Start Thinking Like a Pro
Radio's Digital Content & Social Media
Programming Sports Talk Radio
How to Get In and Win
Marketing and Promotions - Doing It Right
Basics of Great Voice Work and Production
Goal Setting & Time Management
Doing It Live & Voice Tracking
How to Get a Good Job
How to Do A Great Talk Radio Show
Basics of Doing a Great Music Radio Show
Sample Daily Curriculum

From a recent MBA Radio Talent Institute
Recent Guest Instructors
A.J.
Sr. Vice President, Programming
iHeartMedia
St. Louis, MO
---
Donna Baker
Midwest Regional Vice President
Cumulus Media Midwest
Kansas City, MO
---
John Beck Jr.
Sr. Vice President/General Manager
Emmis Communications
St. Louis, MO
---
John Beck Sr.
Engineering Manager
Bott Radio Network
Overland Park, KS
Frequently Asked Questions
The Hubbard / MBA Radio Talent Institute is an intense 10-day program held on the campus of Lindenwood University in Saint Charles, MO in partnership with National Radio Talent System.
National Radio Talent System is the only program of its kind in the world. It's a system of Radio Talent Institutes on college campuses across America. Its mission is to discover, coach and nurture entry-level talent for the industry.
National Radio Talent System brings over 30 radio professionals to the Hubbard / MBA Radio Talent Institute to teach interactive sessions. Over the ten days you will personally learn from them, meet, mingle, and network with them. It could take years to meet and build relationships with this many broadcasters otherwise. Broadcast professionals from almost every aspect of the radio industry lead sessions; on-air, sales, digital, sports, news, production, management, marketing, programming, social media, etc.
After completion of the Hubbard / MBA Radio Talent Institute, you are highlighted on the National Radio Talent System website to broadcasters regionally and nationally. 70% of students who attend the MBA Radio Talent Institute get their first job in broadcasting after graduation.
YES. You don't have to choose one or the other. To date, every radio station has allowed their interns to break away from the internship for ten days to participate in Radio Talent Institutes.
All college students, recent graduates and grad students from all universities in the state and region and interns and part-timers at radio or TV stations are welcomed. A total of 25 students are accepted on a rolling acceptance, so the earlier you apply, the better your chances.
The National Radio Talent System provides a "Certificate of Completion" from the Hubbard / MBA Radio Talent Institute and a "Radio Marketing Professional" certification from the Radio Advertising Bureau.
A $395 Registration fee is paid after you are notified of acceptance, and that cost includes a meal card for lunch to use during the 10 days. Housing, if needed, is available on campus for an extra fee.
About The Missouri Broadcasters Association (MBA)
The Missouri Broadcasters Association serves over 350 radio and television stations, providing members with legal information, on-going training opportunities and certification programs. We work with consultants and other associations to monitor state and federal legislation that could impact our industry and keep lawmakers informed of the good things broadcasters do for their communities.
About Hubbard Radio St. Louis LLC
At Hubbard Radio St. Louis, we mirror the innovation, values and community spirit that drive our region. We immerse our consumers in entertainment and local content that dazzle their senses, touch their hearts and stimulate their minds. Our goal is to extend our reach, create greater efficiency and further increase passion among our consumers in each new experience.
92.3 WIL is celebrating 43+ years of service. Our station's strong heritage, entertaining personalities and dedication to the community bring the poetry of country music to life each day.
106.5 The Arch is the station everyone can agree on, with a variety of adult hits, we make you wonder ... "What will I hear next?" The Courtney show anchors morning drive, mixing music, fun and local information for St. Louisans during their drive to work
WXOS 101.1 is the #1 sports station in St. Louis, carrying the best of ESPN programming, as well as major Play by Play of all sports and locally, the home of St. Louis Blues hockey.
KSHE 95, "Real Rock Radio", was one of the very first radio stations to play rock music on the FM band. The station celebrated 53 years of rocking St. Louis in 2020 and is the longest running rock station on the planet!
105-7 The Point, "Everything Alternative" is celebrating 28 years as St. Louis' original Alternative station. Our unique music position, community involvement, and the #1 morning show "The Rizzuto Show" is what makes the Point a ratings juggernaut in St. Louis.
About The National Radio Talent System
Initially developed by NRTS Founder Dan Vallie, the unique hands-on and immersive program enables students to participate in sessions, that included such topics as on-air delivery, sports, news, promotions, production, podcasting, engineering, digital and sales, as well as complete the RAB Radio Marketing Professional certification course.

Since acquiring the talent system in 2020, RAB has assembled an NRTS Board Committee chaired by Seven Mountain Media's Kristin Cantrell and an NRTS Alumni Advisory Council focused on helping the organization develop and plan for future institutes, recruiting new talent into broadcast radio, and fostering engagement between broadcasters and institute graduates.

The National Radio Talent System, a division of the Radio Advertising Bureau, (RAB) produces Radio Talent Institutes on college campuses across America. It is the first and only program of its kind in the world, discovering and preparing the next generation of broadcasters.
Our Mission
The Hubbard/MBA Radio Talent Institute attracts, develops, and creates opportunities for talented, enthusiastic and educated young adults who have a passion for the broadcast industry. Rising college juniors and seniors work through an immersive 10-day program to provide them with a better understanding of aspects of the industry, including on-air, programming, writing, news, sports, digital, and sales, All students accepted into the program also participate in RAB sales training. Upon completion of the course and the passing of the final exam to earn their RAB Radio Marketing Professional Certification.

The Hubbard/MBA Radio Talent Institute prepares the students to excel in entry-level positions upon their graduation, and better ensures they get a great start in and helps them to prepare for a successful career in broadcasting.

We look to attract motivated students interested in contributing to making the broadcast industry even more dynamic.
Contact
If you have any questions regarding  applying or need assistance in any way, please don't hesitate to contact us directly.
NRTS Contact: Erica Farber
Call: 972-753-6720
See what a future in broadcasting looks like when you join a Radio Talent Institute
Students Get Hands-On at Radio Talent Institutes